10 top scorers in San Antonio Spurs history: George Gervin's record is untouchable
---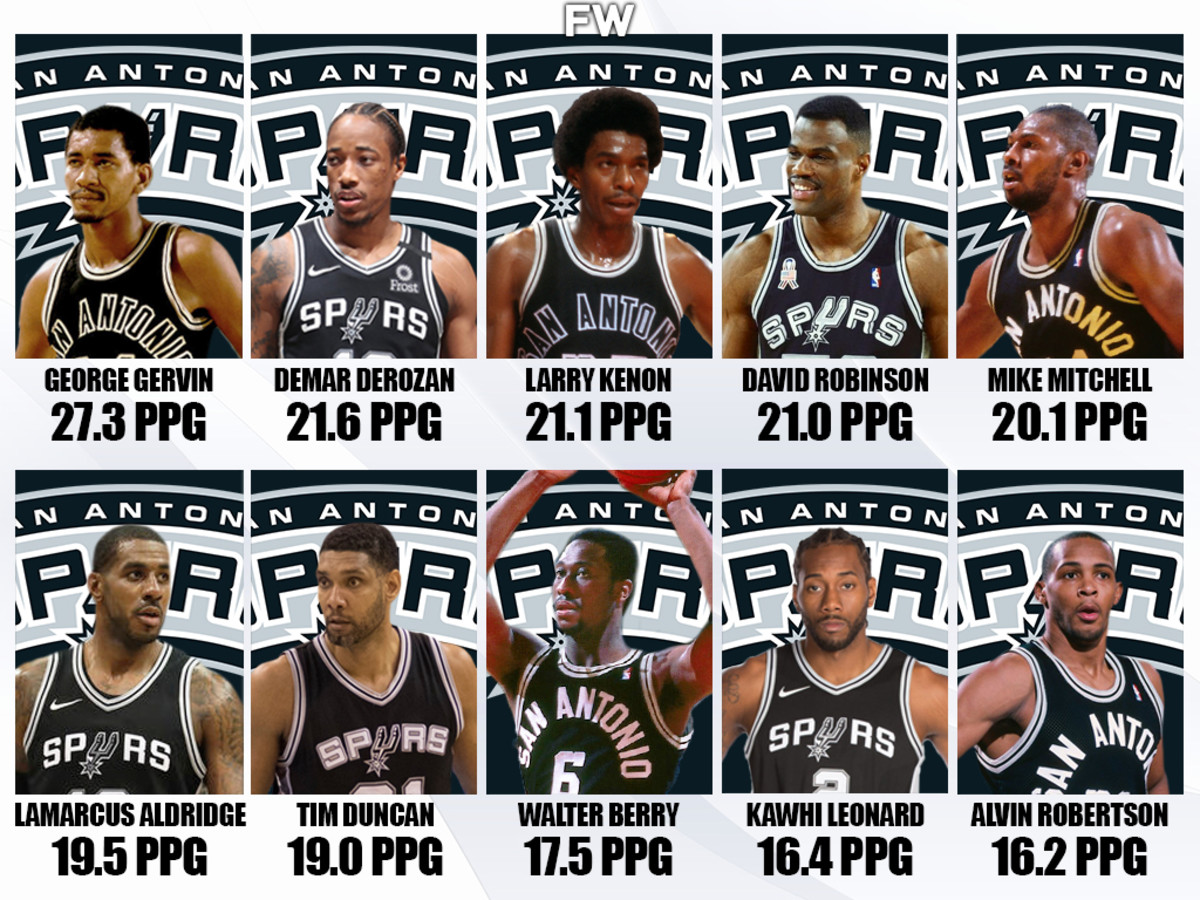 Everyone in today's modern age knows all about Tim Duncan, Tony Parker and Manu Ginobili. The Big Three were legendary for helping bring four championships to San Antonio, while Duncan contributed to five titles. Parker and Ginobili knew their roles, which is why they aren't ranked in the top 10 for best scoring average. What we never talk about is how dominant George Gervin was back then.
Gervin could have done what today's players do and joined a great team, but he stayed true to his franchise. Gervin's stats tell a Hall of Fame story, while two of those top-10 players own half the spots on the quadruple-double roster.
Here are the top 10 scorers in San Antonio Spurs history.
---
10. Alvin Robertson – 16.2 PPM
(5 seasons, 1985-1989)
Robertson was known for his defense, where he led the league in steals and once won Defensive Player of the Year. He currently ranks third all-time in steals in franchise history, where he set the NBA record (since broken by Chris Paul) for steals in 105 consecutive games. He is one of seven players in Spurs history to be selected to the All-NBA First, Second and Third Teams.
A multidimensional player, Boertson is one of four NBA players to record a quadruple-double when he recorded 20 points, 11 rebounds, 10 assists and 10 steals for the Spurs against the Suns in 1986. He is also the only non-center to record a quadruple-double.
---
9. Kawhi Leonard – 16.4 PPG
(7 seasons, 2012-2018)
Considered one of the best perimeter defenders in the NBA, Leonard is capable of holding three different positions. Due to his abilities, he is a former Defensive Player of the Year. While providing Spurs with top-notch defense, he was also someone who gave the team over 20 points per game.
He has developed an elite offensive game over the years. He is capable of hitting mid-range and three-point shots. He can post his opponents and shoot pull-up jumpers. Leonard was also the 2014 NBA Finals MVP. Had Leonard not been injured in the 2017 Western Conference Finals, he might have led the team past the Warriors.
---
8. Walter Berry – 17.5 ppg
(2 seasons, 1987-1988)
Berry is a former No. 14 overall in the 1986 NBA Draft. He was taken by the Trail Blazers; however, he did not want to play for Portland and was later traded to Spurs in exchange for Kevin Duckworth. Barry played in the NBA from 1986 to 1989.
While with Spurs, he didn't get along with coach Larry Brown. He was also released by the Nets later in his career after failing to follow team policy. Berry had a successful career in the EuroLeague, but had he been more collaborative, he might have been in the NBA much longer.
---
7. Tim Duncan – 19.0 ppg
(19 seasons, 1998-2016)
Duncan was a power forward who could also play center thanks to his 6-foot-11 stature and 250-pound weight. Duncan has a career double-double in points and rebounds. He is considered one of the most consistent players in the NBA. Along with his top-notch inside rebound, he also ranks among the top scorers and shot blockers. At the end of his senior season, Duncan ranked first in regular season point-rebounding double-doubles among active players.
Duncan would have scored more points without his free throw, which was under 70%. That said, Duncan was a clutch player, having won three Finals MVP awards. Due to his versatility and success, many believe Duncan ended his NBA career as the greatest forward of all time.
---
6. LaMarcus Aldridge – 19.5 ppg
(6 Seasons, 2015-2020)
When Aldridge joined Spurs, he was coming off a successful tenure with the Portland Trail Blazers. Later in his career with the Spurs, he reached 18,000 career points and became the only player in the league with 18,000 career points and 7,500 rebounds since 2006 when he was drafted. There were times when Aldridge absolutely blew you away on the pitch.
He once scored 48 points and added 13 rebounds in a win over the Celtics. His career high was 56 points. Aldridge has never made the NBA Finals, but did make the Western Conference Finals in 2017. If Kawhi Leonard hadn't been injured, many believe the Spurs would have given the Warriors a streak difficult.
---
5. Mike Mitchell – 20.1 PPM
(7 seasons, 1982-1988)
A former All-Star, Mitchell was in the top ten in scoring four times and in the top ten in minutes three times. Among other career spotlights, he led Spurs in scoring in 1984-85. This marked his only season in which George Gervin played for Spurs and did not lead the team in scoring. He outclassed Gervin's 21.2 points with his 22.2 points per game.
Mitchell has averaged 19.8 points in his NBA career. His total of 9,799 points is the seventh highest in team history. The names in front of him are some pretty impressive people. Considering Mitchell wasn't the best option at the time of his tenure, some might have forgotten how underrated he was.
---
4. David Robinson – 21.0 ppg
(14 seasons, 1990-2003)
Robinson possessed enormous mobility for a player who played at the post. He possessed finishing ability, speed and ball handling. He had excellent offense and defense. He was truly unstoppable on both sides of the pitch. He could throw vicious dunks and block shots at the same time. He also had a very good jump shot from mid-range.
Robinson averaged 21.1 points per game and 10.7 rebounds in 987 games during his NBA career. He is also one of a very small group of players to have scored more than 20,000 career points in the NBA, in addition to being one of only four players to record a quadruple-double. He is also one of six players to have recorded 70 or more points in a game.
---
3. Larry Kenon – 21.1 PPM
(4 seasons, 1977-1980)
Kenon enjoyed his best years with Spurs alongside Gervin. During his four seasons, he played with Gervin after the ABA-NBA merger. Both are averaging over 20 points per game. Over those four seasons, Kenon averaged 21.9, 20.6, 22.1, and 20.1 points per game. He also made the All-Star team two consecutive years in 1978 and 1979.
He also averaged at least 10.7 rebounds in each of his four seasons. His best season came with 12.0 rebounds in 1976-77. After the 1979-80 season, he signed with the Bulls. His totals went down once he left. During his seven NBA seasons, he scored 8,535 points. His total with the ABA was 12,954 points.
---
2. DeMar DeRozan – 21.6 ppg
(3 Seasons, 2019-2021)
DeRozan has been stacking the scoresheet for a while now. DeRozan currently ranks among the top scorers with the Bulls and finished his career with the Raptors as the all-time leading scorer. Without trading DeRozan for Kawhi Leonard, the Raptors might not have a title. DeRozan was a fan favorite in Toronto, but he quickly won over fans in San Antonio.
He became the first San Antonio player to score in double digits in each of his first 22 games since David Robinson as a rookie in 1989. He then became the first San Antonio player to record a triple-double at home since Tim Duncan in 2003. Then he was the first Spurs player to have at least 15 points, 10 rebounds and five assists in one half since Duncan in 2007.
---
1. George Gervin – 27.3 ppg
(9 seasons, 1977-1985)
Just before the final ABA season, Spurs acquired star forward Larry Kenon. With Kenon at his side, Gervin formed a dominant attacking punch to help Spurs fight for a championship. The Spurs were one win away from winning the 1976 ABA Finals before falling to the New York Nets and Julius Erving.
Gervin produced his first NBA scoring title in 1977-78, where he narrowly beat David Thompson by 0.07 points. Thompson scored a memorable 73 points on the final night, Gervin was able to maintain his slight 63-point lead by scoring 33 points in the second quarter. With the scoring title in hand, he missed part of the third and all of the fourth quarter. What stands out the most about Gervin is that despite disappointing playoff eliminations and not making the final, Gervin was committed to Spurs. Gervin eventually led the NBA in scoring four times (three in a row from 1978 to 1980), but will also be remembered as a player loyal to the franchise.
---
Most points in San Antonio Spurs history
Here are the ten players with the most points in Spurs history.
1. Tim Duncan – 26,496
2. George Gervin – 23,602
3. David Robinson – 20,790
4. Tony Parker – 18,943
5. Manu Ginobili – 14,043
6. James Silas – 10,290
7. Mike Mitchell – 9,799
8. Sean Elliott – 9,659
9. Larry Kenon – 8,248
10. The Marcus Aldridge – 7,325
Following
10 top scorers in Sacramento Kings history: No one will ever be better than Oscar Robertson
10 top scorers in Oklahoma City Thunder history: Kevin Durant is one of the all-time top scorers
10 top scorers in Philadelphia 76ers history: Wilt Chamberlain is 0.01 points better than Allen Iverson
Top 10 scorers in Los Angeles Clippers history: World B. Free Leads, Bob McAdoo and Kawhi Leonard are 2nd and 3rd
Top 10 scorers in Cleveland Cavaliers history: LeBron James is the greatest jumper of all time