A fascinating dossier | Shehr
---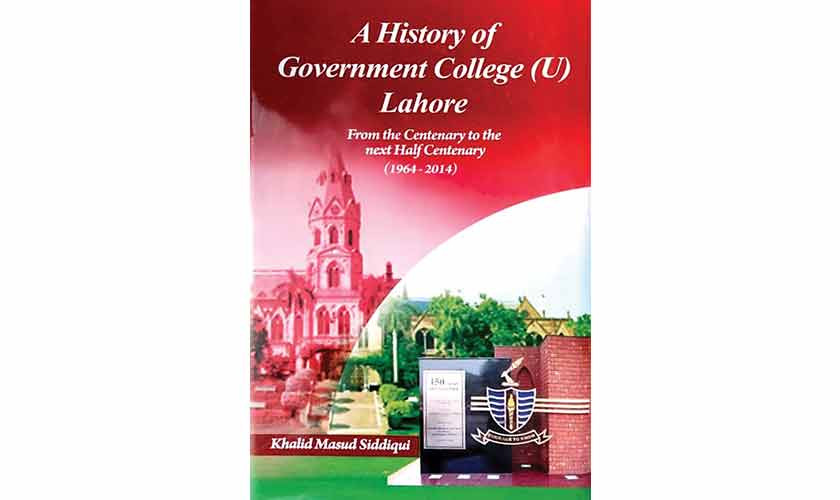 JThe content of the book includes an acknowledgment and a foreword, followed by an introduction and an account of the Government College (University) noted at the time of its directors Nazir Ahmad, Muhammad Rashid, Ashfaq Ahmad Khan, Muhammad Ajmal , Siddique Kalim, Fiza ur Rahman, Abdul Majid Awan and Khalid Aftab – from 1964 to 2002 – after which the college was transformed into a university.
The personality of the founding director Dr. GW Leitner and his endeavors are discussed at length and his multilingual being with experience as a professor of Arabic and Islamic jurisprudence in various leading institutions is also discussed.
The reader is delighted to know that the college was founded inside the walled city, in the haveli by Dhyan Singh, in 1864; and it was originally called Lahore College.
Dr. Leitner was against rote learning and wanted students to write and express themselves freely in their own style. The college began with an enrollment of only nine students. At the time, it was affiliated with the University of Calcutta for examinations, which the founding director simply hated – he was striving to make the college an examination and degree-granting institute. Later, the campus was moved to the house of Dr. Khan Sahib, Civil Surgeon and Principal of King Edward Medical College, on Dhani Ram Road, while the current campus was still under construction. The mansion, built in 1877, was unfortunately demolished a few years ago.
The Presbyterian church on the current site, which already existed, served as a teaching hall. Leitner served from 1864 to 1886, making him GC's longest-serving director. Through his efforts, the University of Punjab was established in a GC hall as an examining body in 1868. However, it was in 1882 that an independent university was founded on the other side of the road.
Black and white portraits of the different successive heads were given in the book. Although these aren't very sharp images, the personalities look remarkable. A rare portrait of Shamsul Ulema Maulana Muhammad Hussain Azad, the Persian teacher, exists and should have been included. Azad's father was wrongfully executed after the fall of Delhi in 1857. His ancestral home was confiscated and elderly women were driven out. He had come to Lahore and joined the college in the year of its foundation. Later, he got another teaching assignment at the then newly established Oriental College.
It seems that many professors taught several subjects simultaneously. A galaxy of these enlightened teachers established the educational and academic foundations of GC.
This story is not only about the various principals and teachers, the many competing tendencies in literary circles were also discussed with particular reference to big names such as Thomas Arnold, Allama Iqbal, Sufi Ghulam Mustafa Tabassum, Faiz Ahmad Faiz, NM Rashid , Imtiaz Ali Taj and Patras Bukhari. However, not everyone has been discussed in detail, perhaps because it is not an encyclopedic work. Iqbal's interaction with Arnold has been discussed, but the latter's book on painting in Islam should have been referenced.
The book discusses the various literary societies that the college boasted of. college magazine, The delighted, is a sort of literary periodical with the motto: Courage de savoir. Its English and Urdu sections served as a nursery for many future journalists.
With the induction of natives into the Indian civil service, GC became the training ground for those who aspired to high government positions. It seems that the newly recruited teachers were biding their time to prepare for the exams. As more science subjects were introduced, the author points out that many professors wanted the institute to remain limited to art and literature.
The book documents several landmark events. Robertson, an English teacher and headmaster from 1888 to 1891, was particularly mindful of student decorum, especially regarding their dress code. He also emphasized high moral behavior.
Professor Bell started the development era by promoting sports like football, tennis and cricket and acquired the Presbyterian Church and converted it into a gymnasium (as mentioned in my earlier dispatch). The Quadrangle, or Inn, was completed and occupied in 1891. It was later named after Allama Iqbal after the latter's disappearance. Likewise, Majlis-i-urdu was renamed after the poet. It was inaugurated by MD Taseer.
Originally, there were no guardrails or fencing around the college campus, so dairy cows frequented the oval field. It was only on orders from Robertson towards the end of the 19and Century that it was fenced and closed.
The famous crimson blazer was adopted during the Garrett era (1927-36) who is said to be a suave, easy-going man.
GD Sondhi, the author says, created history by being the first alumnus of the college (1905-11) to become its principal. He was also the first native GC director to serve during the tumultuous years of World War II (1939-43). He had joined the college during the Great War in 1917 as a professor of economics. He believed in quality, which is why he reduced the number of registrations from 1,300 to 1,050.
Sondhi was a handsome and exceptionally gifted man. He was very active in sports and encouraged many societies, including the Dramatic Club, to come up. He was also a horticulturist; thus, the places have had a makeover through different plantations.
Sondhi's daughter Urmila became the first female editor of The delighted. Later she married Professor Sirajuddin. Their daughter, Mrs. Sonnu Rahman, is also an illustrious teacher. In one photo, you can see her standing next to a fountain and a benign lion's head named after her father.
Sondhi's granddaughter, Shaista Sirajuddin, is an exceptional teacher of English literature.
Ahmad Shah Bukhari was a student at GC from 1919 to 1925. He was also the editor of The delighted and known for his humorous writings. He became principal of the college in 1947 and remained there until 1950.
The long list of heads of various departments is a historic record. Perhaps the index of names spread over about 80 pages is in itself worth keeping.
The author regrets that the name of his dear colleague and friend, Professor RA Khan, has been inadvertently omitted. However, the long list includes many names that I too was friends with such as Sarmad Sehbai, Aftab Gul, Naseer Malki, Saadatullah Khan, Haroon Kiani, Najam Sethi and Athar Tahir. The names of Masud Ajmal and Salman Ali Shareef are missing, however.
The book also documents college meetings at the fine arts department and the unceremonious exit of Professor Rasheed. As a final finishing touch, there is a mention of the long struggle to start Bengali language courses in college. The courses were finally started by a Bengali student named Mubarak Ali Molla in March 1966.
The book is a must read, even for those not affiliated with the college.
Next Sunday: Lahore, a sentimental journey by Pran Nevil, a Ravian
(This dispatch is dedicated to Prof RA Khan)
Note: Free art classes for all ages and genders are held every Sunday at Maison des NANNA. This Sunday, Nasira Habib will be the guest of honor at a session on organic gardening.
A History of Government College (U), Lahore
From the centenary to the next half-centenary (1964-2014)
Khalid Masoud Siddiqui
Published by Al-Hamd Editions
Pages: 438
Price: Rs 2,000
The writer is a painter, a founding member of the Lahore Conservation Society and the Punjab Artists Association, and a former director of the NCA Art Gallery. He can be contacted at [email protected]