Bou and Marcelli return to Sant Jordi in top form
---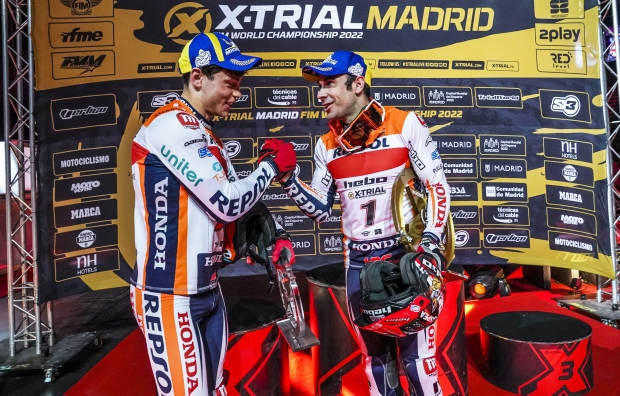 After last weekend's double in Madrid, Bou and Marcelli return, some five months later, to Barcelona's Palau Sant Jordi, a place of treasured memories for Repsol Honda team riders. The last event in the Catalan capital ended on the first two steps of the podium, Toni Bou sealing a thirtieth world title.
Barely time to party after Chalon-sur-Saône and Madrid, Toni Bou and Gabriel Marcelli continue to compete in the third consecutive round of the 2022 World Cup, but this time at home. Barcelona's Palau Sant Jordi will host the 45th edition of the longest running indoor trials competition – round four of the 2022 FIM X-Trial World Championship calendar – five months after witnessing Toni Bou's 30th world title. The event finds both Team Repsol Honda riders in fine form, fresh off the one-two win in the Madrid arena.
Toni Bou is well on his way to a new world title after three victories in a row. With a 23-point lead over his nearest rival, the champions approach Sunday's event in Barcelona without any significant pressure, a far cry from the last time he visited the magnificent Barcelona venue. Bou has triumphed 14 times at the Palau Sant Jordi and the Barcelona rider will be eager to extend the tally even further this year. In his overall career in the FIM X-Trial World Championship, Bou holds another record: that of his 95 indoor appearances with 75% of these indoor events ending in victories.
Meanwhile, his team-mate Gabriel Marcelli celebrated his twelfth X-Trial with a superb second-place finish in Madrid. Now the Galician runner returns to the site where he achieved his best performance until 2021 with exorbitant levels of motivation. Marcelli sits in sixth place overall and aims to continue increasing his positions throughout the year's competitions.
As usual, the Barcelona Indoor Trial, which has taken place continuously at the Palau Sant Jordi Olympic site since 1991 (it was previously held at the Palacio de Deportes), will start at 5:00 p.m. this coming Sunday, April 10.