History becomes a compulsory subject in high schools
---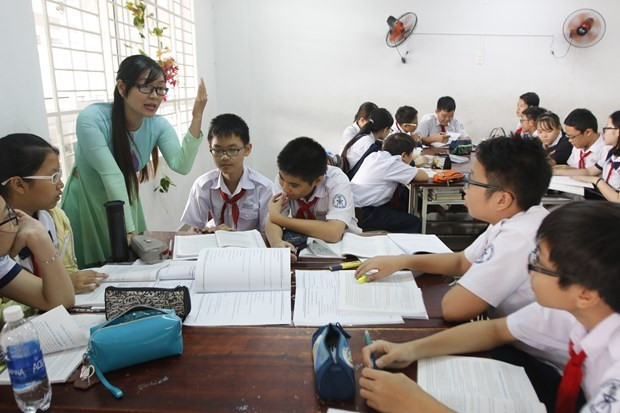 Students from Tran Dai Nghia High School for the Gifted in HCM City during a history lesson.
Circular No. 13/2022/TT-BGDĐT, issued by the Ministry of Education and Training, requires "rational and logical arrangement of history subject, including compulsory and optional courses, in the curriculum secondary school education".
The highest quality must be ensured in teaching traditions and the personal development of students.
The change was made while maintaining the same position on the vision and goals of the overall curriculum, as well as the specifics of the history subject.
Maintaining the exact structure of the curriculum, the change aims to improve general knowledge at the basic education level, providing students with a rational understanding of various subjects for their development.
It will also ensure that the amount of knowledge taught is suitable for all, as well as the fundamental and systematic curriculum and the career orientation of secondary school students.
The change is also aimed at appreciating national history by educating in patriotism, national pride and culture and historical traditions.
Connections and logic in required and career-oriented courses are also an area of ​​focus.
For the history subject, 52 school periods per year are compulsory for pupils, an adjustment from the previous requirement of 70 periods per year. The duration of optional history courses is fixed at 35 periods per year.
Following the change, compulsory subjects now include literature, mathematics, first foreign language, history, physical education, national defense and security education, vocational orientation and experience and a local education course.
Nine optional subjects are no longer classified into groups. Students can choose to study four subjects among geography, economics and legal education, physics, chemistry, biology, technology, music and visual arts.
The Grade 10 history textbook published before this amendment remains usable, as teachers have been trained to teach up to 70 lessons per year. Additional instructions will be provided to lead teachers to deploy mass training.
Secondary school principals have said that with optional subjects no longer divided into three groups, students are required to choose four subjects from nine options in addition to the eight compulsory subjects.
The circular essentially does not create a major change in the current program. However, schools that signed up for the class of 2022 will need to rebuild the plan and help their students choose their options again.
In addition to these four subjects, special learning topics have been grouped into groups within each subject, aimed at providing more specific knowledge and helping students improve their knowledge and practical skills.
In each class, students can choose three groups of special learning subjects from three subjects according to their wishes and the school's organizational capacity.
Besides these subjects, students can also choose to learn a second foreign language or an ethnic minority language.
Source: VNS