Lakenheath airmen are working on a method to improve the working climate and prevent suicides
---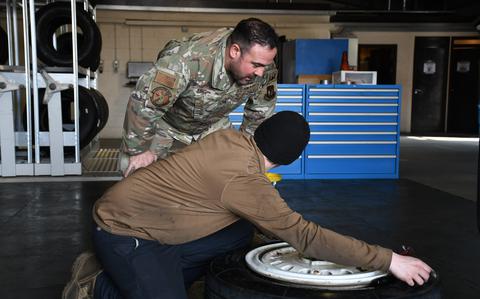 RAF LAKENHEATH, England — Tech. sergeant. Matthew Byous once felt ignored by his leaders, but someone in high places was listening when he spoke out on Facebook about suicide prevention.
Now, he's part of an effort to fix the problem, and he's doing it with the support of the service's top enlisted airman.
Late last year, Chief Master Sgt. of the Air Force JoAnne Bass expressed concern, urging service leaders to stave off suicide through "genuine connection, compassion, and presence." Initially, that sentiment rang hollow for the Lakenheath-based airman.
"You can say this," Byous wrote in a comment on Bass' November 2021 post. "But until frontline supervisors live it. Until squadron and group commanders understand how their people are treated. This falls on deaf ears for those of us who have seen friends, co-workers and family members commit suicide.
These candid remarks caught the attention of a former supervisor, Major Sean Frietag, who invited Byous to a task force that was looking at ways to help commanders communicate better with their subordinates.
Earlier this year, the group pitched Bass on a new micro-investigation tool known as Foundations, which some say can help alleviate thorny issues plaguing the force, including suicide.
"I couldn't be more excited about the work being done on the Foundations program," Bass said, praising the work of Byous, Frietag and Tech. sergeant. Devan Trammel. "They're transforming the way our Airmen provide feedback to help better shape their organizations…I'd love to see that force-wide."
After working with Trammel, the Foundations program manager, Byous persuaded 48 Equipment Maintenance Squadron Lakenheath to become one of more than 40 units to adopt the tool, which aims to create a climate of healthy command where Airmen feel safe to raise concerns and challenge the status quo. It has been in beta testing for over a year.
Byous Squadron's adoption of Foundations follows the December 2021 death of Airman 1st Class Camden Mello, a crew chief assigned to 748 Aircraft Maintenance Squadron Lakenheath who authorities say died by suicide.
In a Facebook post about Mello's death, Wing Commander Col. Jason Camilletti was exceptionally candid, telling Airmen they are loved and important and providing information on suicide prevention.
Byous said the death was not the only local suicide in the past three years, although Air Force officials in England were unable to provide a figure. The deaths came amid a service-wide push to stop suicides.
This intensive focus began in 2019, when the Air Force recorded both the highest number and rate of suicides in recent history. The onset of the COVID-19 pandemic in 2020 supported this trend.
In April 2021, the service's Director of Resilience, Brig. General Claude Tudor, called for efforts at all levels of command to find solutions.
In a nod to that call for all, some foundation supporters believe the tool could help tackle pernicious issues like self-harm and sexual misconduct.
It's designed to promote a culture of innovation in the Air Force by building the "psychological safety" a person needs to speak up, which proponents say could draw attention to various issues sooner.
"It's not the magic bullet. I don't think that fixes everything, "commands the master sergeant. Paul Hammer III said in an April 2021 podcast about foundations. "But I have to imagine that if the environment is psychologically safe and someone is struggling with something like suicidal thoughts, then they're more likely to tell someone and seek help. "
The foundations are part of a larger effort called Tesseract, which aims to apply principles from Google, Amazon, and Delta Air Lines to improve logistics and maintenance without additional cost or personnel, in part by finding and fixing sticking points. in business processes.
The larger goal is to empower and connect Airmen so they can improve their workplace, which Foundations seeks to achieve by identifying issues and providing resources to help address them.
The five-minute poll questions are based on industry research on what makes great teams. The program scores orders based on surveys conducted every few weeks.
Quick Micro-Surveys are Tesseract's answer to the three-hour command-wide surveys the Air Force conducts once a year.
Officials don't have data showing how workplace culture in the Air Force may be linked to suicide, said Trammel, the program manager, but they "hope to get there."
For Byous, a third-generation Airman, implementing the program is about improving the Air Force for those who come after him.
"I totally believe in it," he said in a recent interview. "I fully believe in Tesseract."