Markus Naglestad sets CFC record with four goals in one game
---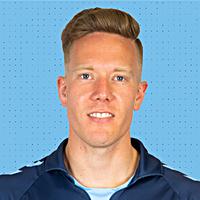 Chattanooga-(WDEF-TV) CFC's Markus Naglestad scored the hat trick…and beyond last week in Chattanooga's road win over Flower City.
Dude set a club record by scoring four goals in one game.
Journalist: "Did you know that this is the most goals in the history of CFC in one match?"
Naglestad said: "I didn't know. I mean the club has been around since 2009. Played in the NPSL. They blew up some teams there. I was not sure. Four goals gives you a good chance, right? Yeah."
Head coach Rod Underwood said: "Well, I mean scoring a goal in a professional football game. You see the scores all over the world, right? Not a lot of goals. So, Getting four is a special thing. Football is a bit like dancing, isn't it? Everyone does their moves and certain things.
Journalist: "If football is like dancing, what kind of dancer is Markus?"
Says Underwood: (laughs) "I don't know. Ballroom dancer how it goes. He's gonna like it. (laughs)
(music rolls)
Naglestad said: "Third goal. I played a one-touch pass to Brett who did a good job. Did a good round and then played me all the way. And the finish really wasn't too complicated. Just find the bottom corner. Yeah."
Reporter: "Were you surprised at all that he did it?"
Underwood said: "I'm never surprised, am I? We form things. You know how we play. Create opportunities. It's up to the players to take their opportunities when they get those moments.
Says Naglestad: "Usually you get the match ball if you get a hat trick. Hmm. I didn't bring it home.
Journalist: "He didn't understand."
Said Underwood: "Yeah, that was their prom." (laugh)
Journalist: "Is giving goals now the new goal for you?"
Naglestad said: "No. No. I mean, I wouldn't mind. I'm fair. Every time I go out on the pitch, I try to score one.
Reporter: "You say, hey, can you do that again?"
Underwood said: "Of course, right? The expectation is to keep raising the standard on the right.