Michael Jordan's perfect record against NBA rivals: 310 players ever against the GOAT
---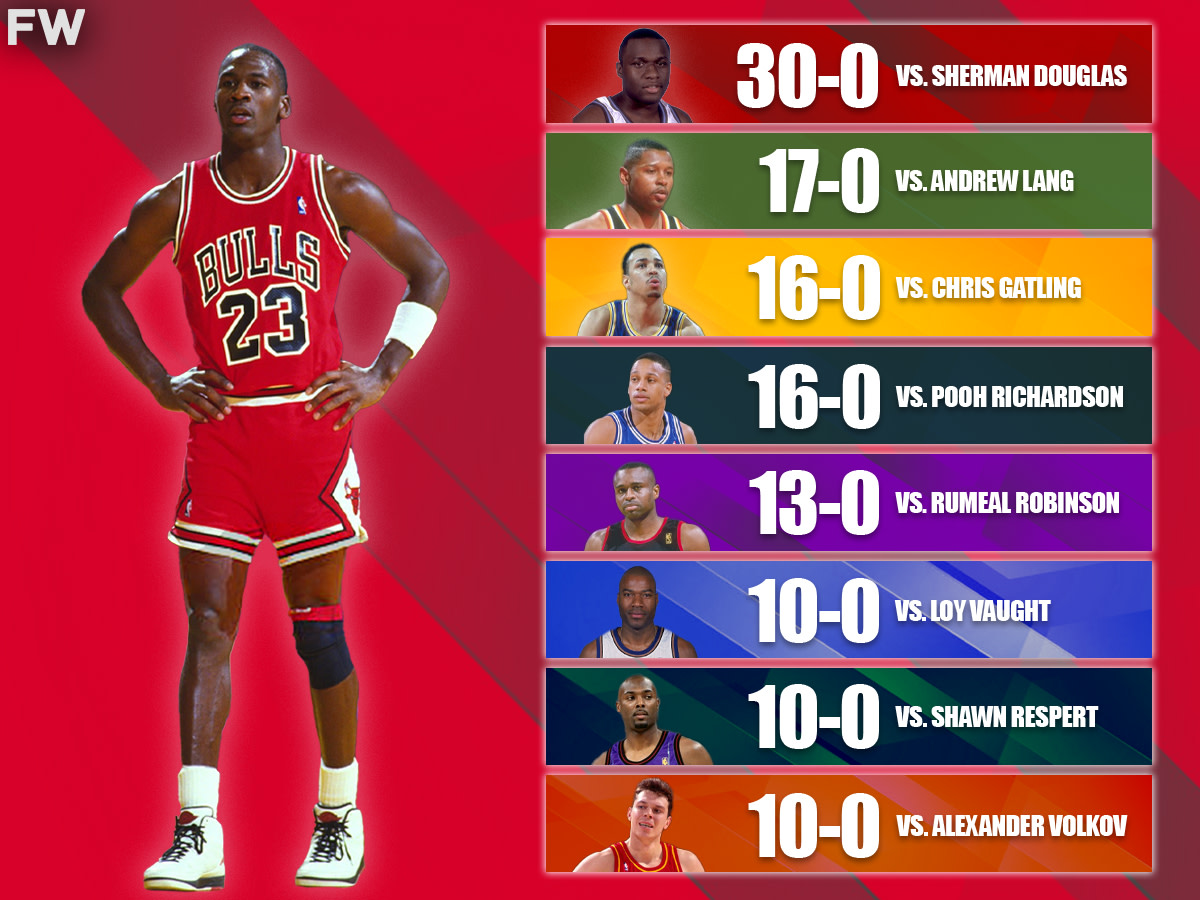 Michael Jordan is universally known and accepted as the greatest basketball player to ever step foot on a basketball court. He has more than a handful of NBA scoring records, among other records, and his dominance over the NBA in the 80s and 90s is a legend that is a necessary chapter in NBA history. Everyone knows the long list of Hall of Famers he kept from winning championships during his reign. But what about the players against whom he holds the best head-to-head records? Today we are going to dive deeper into this record.
Michael Jordan has played a total of 1,072 games during his career. He has an overall win-loss record of 706-366. That gives him an individual winning percentage of 65.9% if you take out his years with the Washington Wizards and just focus on his time in Chicago, his record would be 639-291, a winning percentage of 68, 7%. Jordan's dominance has sung to the tune of 6 championships, 6 Finals MVPs, 5 MVPs and a long list of other accolades and awards.
There are a total of 310 players in which Michael Jordan holds an unbeaten head-to-head record. Of course, I'll go into some of the more damning ones rather than all 310, otherwise I'll be here until Christmas next year. Sorry guys, my kids need me. What does an unbeaten head-to-head record mean? This means that Jordan and his team simply loved seeing the other individual and his teammates lined up against them. This means that Jordan most likely has real estate in his head, maybe even to this day. It also means a lot of bragging rights.
Of all his records, the one that is unbeaten against 310 of his contemporaries might be his coolest, but least talked about. Why is that? Well, most people, as they should, view basketball as a team game and never like to watch the true dominance a player can have over another team or individual. It's like when we say Jordan is the one who stopped all those Hall of Famers from winning championships. We know the Bulls had a lot to do with it, but one man stood out from the rest, Michael Jordan.
Here are Michael Jordan's best head-to-head records against individual players.
Condition: Players must have played at least 9 games against Michael Jordan to qualify for this list
---
Michael Jordan's Best Records Against Individual Opponents
30-0 against Sherman Douglas
17-0 against Andrew Lang
16-0 against Chris Gatling
16-0 against Pooh Richardson
13-0 against Rumeal Robinson
10-0 against Loy Vaught
10-0 against Shawn Respert
10-0 against Alexander Volkov
9-0 against Brian Quinnett
9-0 against Pete Chilcutt
9-0 against John Morton
9-0 against Lionel Simmons
9-0 against Anthony Bonner
This list isn't exactly a list of All-Star talents that are pushing the GOAT conversation forward in favor of Jordan. Nonetheless, Jordan has an undefeated record of at least 9-0 against 13 players throughout his NBA career. Sherman Douglas played 12 seasons with 5 different teams during his career including the Heat, Celtics, Bucks, Nets and Clippers. Douglas' presence in the East brought him into Michael Jordan more often than he had hoped. In 30 games against Douglas, Jordan averaged 29.7 PPG, 5.3 RPG, 4.4 APG, and 2.1 SPG on 53.3 percent shooting. Douglas started 20 of those contests and averaged 10.4 PPG, 5.0 APG, and 1.3 SPG. Most of the games took place when Douglas was with the Heat early in his career in 1990 and 1991, when Jordan was at his best and it showed.
The second-best head-to-head record that Michael Jordan has is his 17-0 record against Andrew Lang. Now, Lang is probably best known for being sent to Philadelphia by the Suns as part of the 1992 deal that saw Charles Barkley land with Phoenix. Lang enjoyed a regular 12-year career with the Suns, Sixers, Hawks, Timberwolves, Bucks, Bulls and Knicks. In 17 games against Lang, Jordan averaged 30.9 PPG, 6.1 RPG, 4.9 APG, and 2.2 SPG. He loved teaming up with those Phoenix and Philadelphia teams. Lang, on the other hand, started 10 out of 17 games and averaged just 5.2 PPG and 4.2 RPG. Talk about unbalanced, huh?
Michael Jordan also went 16-0 against Chris Gatling during his NBA career. Gatling was a 1st round pick for the Warriors in 1991 and earned an All-Star appearance in 1997. He averaged 19.0 PPG and 7.9 RPG during the 1996-97 season for the Mavericks and net. Jordan averaged 30.2 PPG, 7.5 RPG, 4.8 APG, and 2.1 SPG in his 16 wins over Gatling. MJ's opponent was also successful as he averaged 12.9 PPG and 5.7 RPG in matchups. Jordan also met Gatling 6 times in the playoffs and won all 6 encounters.
Michael Jordan also had a perfect 16-0 record against point guard Pooh Richardson. Richardson was a decent point guard in the early 90s for the Timberwolves, Pacers and Clippers. In 1991 with Minnesota, Richardson averaged 17.1 PPG and 9.0 APG on the season in 82 games played. He followed in 1992 with 16.5 PPG and 8.4 APG in 82 games played again. In 16 games against Richardson, Jordan averaged 29.7 PPG, 6.3 RPG, 6.0 APG, and 1.9 SPG. Jordan and the Bulls won all 16 matchups as Richardson struggled. He averaged 11.3 PPG and 6.8 APG on 45.5% shooting from the field.
Jordan's 5th best record in head-to-head matchups was against Rumeal Robinson, against whom he and the Bulls won all 13 games played between them. Robinson had an 8-year career as a journeyman point guard, appearing in games for 7 teams throughout his career. His best season came in 1992 when he played in all 82 games and averaged 13.0 PPG and 5.5 APG. In head-to-head matchups, Jordan averaged 29.5 PPG, 5.8 RPG, 7.4 APG, and 2.4 SPG on 55.8 percent shooting. Robinson didn't stand out in either performance, averaging just 7.8 PPG in their matchups.
---
Jordan's dominance on the pitch isn't limited to the big names
The players above whom Michael Jordan has unbeaten records aren't the ones that jump off the page and make you say, "Wow! Jordan dominated the big guys! ". However, don't be fooled. Jordan also posted excellent winning percentages against the Hall of Famers. In 70 games against Patrick Ewing and the Knicks, Jordan won 70.0% of the time. In 56 games against Reggie Miller, Jordan and the Bulls have won 64.3% of the time. In 48 head-to-head matches with Dominique Wilkins, Jordan has won 62.5% of the time. The thing is, no matter who you were, Michael Jordan was going to find a way to lead his team to victory more often than not.
There are only a handful of players in NBA history who can say they own a winning record against Jordan. He was the ultimate winner, leader, scorer and soul crusher. If you had the best of him once, you can expect an all-time great performance the next time you see him. It's just the way it worked when you fought with the greats to do it. Even though head-to-head matchups can prove meaningless in debates, it's still a fun statistic to watch who had the worst luck against an all-time great.
Credit source: Basketball Reference
Next
Michael Jordan's career high against every NBA team: GOAT destroyed the Cleveland Cavaliers
The only NBA players to win 3 NBA championships, 3 MVP awards and 3 Finals MVP awards
The best player on every NBA team in the 1990s
Phil Jackson's All-Time Team vs. Gregg Popovich's All-Time Team: Who Would Win a 7-Game Series?
The greatest shooting guard on every NBA team