Nigerian presidential hopeful Peter Obi faces hoax complaint over convoy attack
---
Copyright AFP 2017-2022. All rights reserved.
A Facebook post claimed photos shared showed the aftermath of a gun attack on the convoy of Peter Obi, a Nigerian opposition leader who is running in next year's presidential election . It's wrong; all images depict various incidents from previous years and were not taken in Abuja as the post claims. Obi also denied being part of a convoy attacked.
"Peter Obi's convoy sprayed with gunfire in Abuja hours after returning to Nigeria (sic)», reads the Facebook postadding that the alleged culprits were "unknown Yoruba men".
A screenshot of a fake Facebook post, taken on September 14, 2022
The post has been shared over 400 times since it was posted on September 12, 2022. It includes four images, including one of Obi pushing a luggage cart. Another image shows armed security officers in traffic, while the last two are images of SUVs with smashed windows.
The Facebook account that shared the photos has a history of posting misleading and false information favorable to Obi (see our previous fact checks here and here).
Several other Facebook accounts shared the same photos with similar captions (here, here, and here).
Attacks on senior politicians in Nigeria are not uncommon. A convoy carrying fringe opposition Senator Ifeanyi Ubah was attacked in Nigeria's southeastern Anambra State on September 11, 2022. Five people, including two police officers, died in the attack.
Obi served as state governor from 2006 to 2014.
Years earlier, President Muhammadu Buhari's convoy had been attacked in Kaduna on July 23, 2014. Like Obi, he was an opposition leader at the time.
But the claim that Obi was recently attacked in Abuja is false.
Old photos of different events
AFP fact check reverse image searches on all the photos and found that they were posted online from 2016 to 2021. None of the photos were taken in Abuja, the capital of Nigeria and the alleged location of the alleged attack.
First, the Photo of Obi pushing a luggage cart was shared as part of a series on Facebook on September 7, 2016. Seen exiting an airport terminal, Obi, according to the post, was offered assistance from the airport porters but refused to let them push his luggage.
A screenshot shows Obi pushing a luggage cart, taken on September 15, 2022
The second photo in the Facebook post was posted by Prime time on October 17, 2020, following an attack by protesters on the convoy of Osun State Governor Gboyega Isiaka in southwestern Nigeria.
A screenshot of the Premium Times article, taken September 15, 2022
Protesters, mostly young people, marched against police brutality in major Nigerian cities.
Premium Times also published the third photo in a article on December 21, 2016, showing the aftermath of an attack on Kaduna State Governor Nasir Ahmad El-Rufai in northwestern Nigeria.
A screenshot of the Premium Times article, taken September 15, 2022
The newspaper reported that El-Rufai and his entourage were stoned to death by protesters when he traveled to Kafanchan in southern Kaduna for a security meeting.

The registration plate of the SUV pictured bears the seal of the Governor of Kaduna State.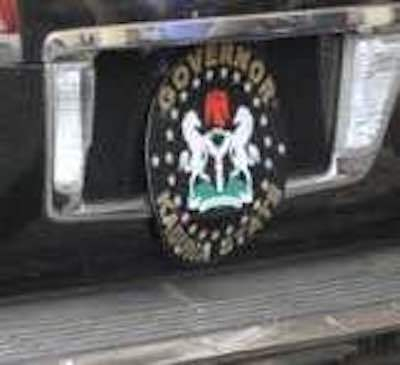 A screenshot of the SUV's license plate, taken September 15, 2022
The last photo of the fake message has been shared on Twitter by news site The Guild Nigeria July 12, 2021. The tweet explained that the photo, one of four, showed security officials who were part of Lagos State Governor Babajide Sanwo-Olu's convoy apprehending suspected thieves in traffic .
A report about the arrest was published by The Punch newspaper on July 13, 2021.
The attack claims a hoax
An Abuja police spokeswoman, Josephine Adeh, called the claim "fake news".
Obi's media assistant, Valentine Obienyem, also posted a public statement rejecting the claim.
"May God forbid even the thought of such barbarism be inflicted on him," he wrote.
The fake post was posted hours after several Facebook accounts shared a statement published by Festus Keyamo, the spokesman for Bola Tinubu's campaign team, the ruling party's presidential candidate.
In it, Keyamo accused Obi of planning to "fake an assassination attempt on himself".and make it look like the work of Tinubu supporters.
But an Obi campaign spokesman, Emeka Obasi, said the Labor Party candidate had no such plan, describing Keyamo's claim as a "mistake."
Keyamo's statement was a direct response to a viral video in which Obi claimed that a Tinubu support group sent a WhatsApp message asking Yorubas not to vote for Obi but for the ruling party candidate.