Parents are divided on teaching LGBTQ+ subjects in classrooms
---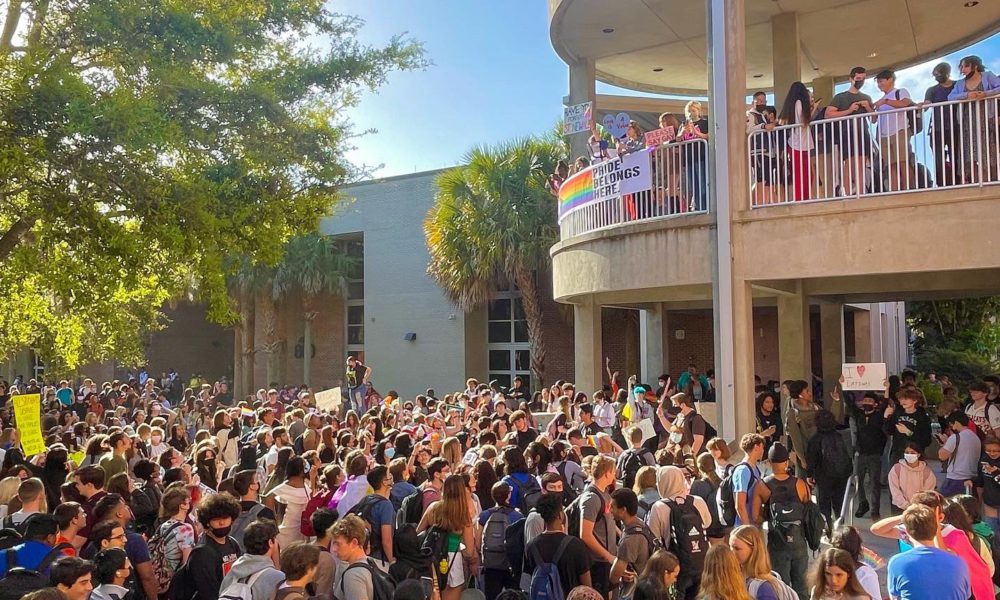 WASHINGTON — A new poll released Monday by Morning Consult, an online survey research technology company, showed that there is a fairly even split among American parents regarding teaching or discussing sexual orientation and sexual orientation. gender identity in K-12 classrooms.
The poll found that parents who identify politically with the Republican and Democratic parties have become more comfortable with the growing importance of LGBTQ in everyday life. These factors come as Republican state lawmakers claim "parental rights" as justification for a litany of anti-LGBTQ+ laws over the past three years they have pushed, including several "Don't Say" laws. gay" in state homes across the country, the Florida law is becoming a lightning rod in political discourse.
Main conclusions:
Where Americans Stand on LGBTQ in the Classroom
US parents or guardians of children 18 or younger are essentially split on teaching or discussing sexual orientation and gender identity in K-12 classrooms: 41% support it and 44% s oppose it. Parents are slightly more likely to support (44%) than oppose (40%) instructions regarding the LGBTQ civil rights movement.
According to Morning Consult, there are only small differences between parents of younger and high school students, but stark partisan divisions are evident: About 3 in 5 Democratic parents nationwide support the guidance discussion. sexual and gender identity, while almost as many Republican parents and almost half of Independent parents oppose it.
Annise Parker, president and CEO of the pro-LGBTQ Victory Fund, told Morning Consult that schools have often marked the front lines of culture wars, and this time supporters of legislation like Florida's have been particularly capable of stalling the still mixed opinions of the Americans. on the rights of transgender people.
"One of the reasons we've made such great strides over the years in terms of how the public perceives gay and lesbian people is closeness — getting to know people dating individually. The transgender issue is still unknown to many people," she said. "For an issue that took some education for my own community to master, we shouldn't be surprised that it's much more difficult for society at large."
The poll also looked at the influences teachers have on students in discussions of sexual orientation and gender identity, noting that most Americans — including 82% of Republican parents — trust teachers to "take action." in good faith, do their jobs fairly, and prepare their students for the world," the GOP's focus on LGBTQ topics in the classroom could capitalize on declining trust in the public education system, especially among Republicans, who are more likely than the general population to believe that classroom teachers influence children's values ​​and their sexuality and gender identity.
Republicans are aligned with much of their base that LGBTQ discussion is inappropriate for the education system. But some have gone even further and accused those who think teachers should be able to discuss these issues in the classroom of being 'groomers', a term used to refer to people who lure children for sexual abuse. .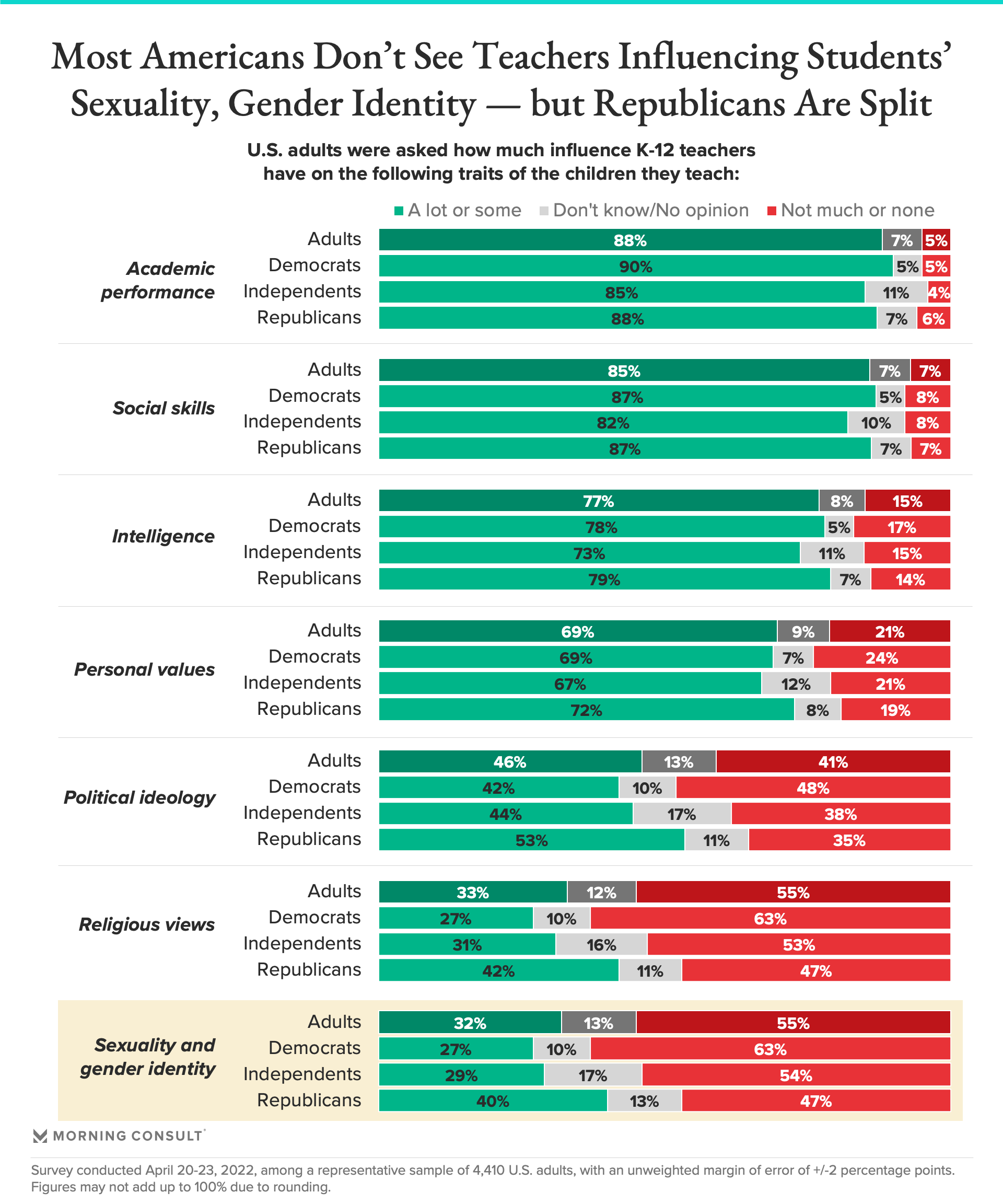 The survey asked about professors who identify as LGBTQ+: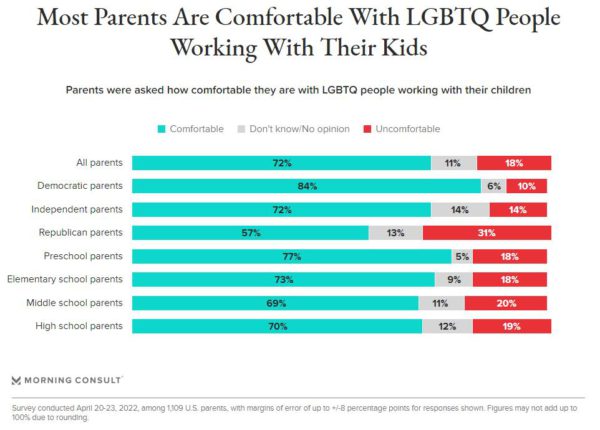 The vast majority of Democratic or Independent parents said they were comfortable with LGBTQ people interacting with their children, while nearly 3 in 5 Republican parents agreed. About 3 in 10 Republican parents said they do not personally know or associate with an LGBTQ person. These parents were more likely to say they were uncomfortable with an LGBTQ person interacting with their children than the roughly two-thirds who do, 44% to 25%.
Americans' growing comfort with the LGBTQ community
Most Americans, including Republicans in general and parents among them, have grown more comfortable with the LGBTQ community over the past three years, according to Morning Consult polls.
When it comes to school education, about a third of Republican parents (32%) said they were comfortable with LGBTQ history lessons in their child's classroom, more than double the share who said so in May 2019, while the share who said they were uncomfortable with him fell, from 77% to 55%.
On the issue of teaching LGBTQ+ history to students, the split was nearly even: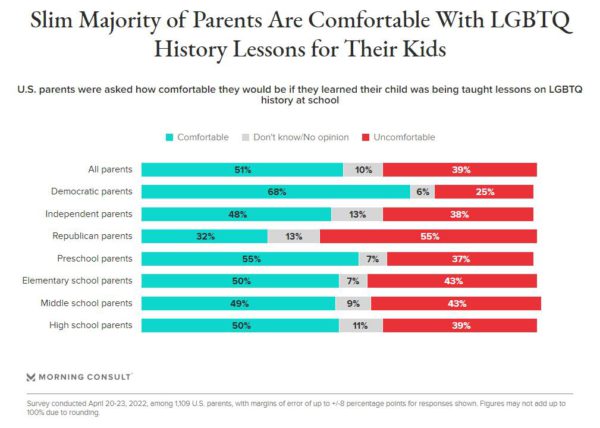 Looking at the general population, half of all Americans said they were comfortable learning about children taking lessons about LGBTQ history in school, compared to about 2 out of 5 who said it made them feel uncomfortable. Both numbers were similar to shares measured in 2019, but comfort has increased with other aspects of queer life, including seeing a child being raised by a same-sex couple, being invited to a same-sex marriage, or being represented by someone who is LGBTQ in Congress.
The final question was about how comfortable Americans are growing with LGBTQ association: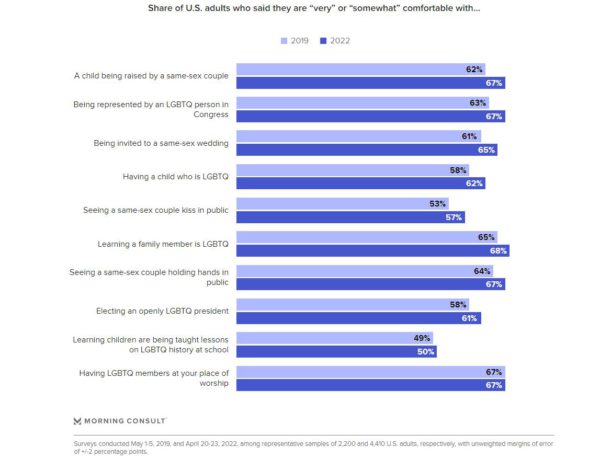 The full Morning Consult poll is here: (Link)