Sports News | ENG Vs IND: Root-Bairstow continue scorching form, hosts need 119 runs to win final day (Day 4, stumps)
---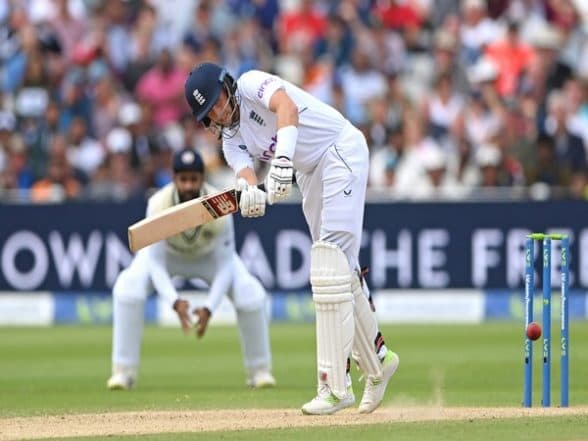 birmingham [UK]July 4 (ANI): A 150-point stand between Jonny Bairstow and Joe Root helped tip the odds in England's favor at the end of the final session on matchday four of the current fifth and final Test against England. India at Edgbaston in Birmingham on Monday .
At the end of the day, England's score was 259/3, with Root (76*) and Bairstow (72*) standing. The Indians were left clueless by the determination and stroke play of the two in-form hitters.
Read also | India vs England, 5th Test 2022 Stats Highlights: BazBall-inspired England close in on a massive hunt for script history after day four.
England took things back after tea at 107/1, with fly-half Alex Lees (56*) and Ollie Pope (0*) unbeaten at the crease.
India got an early wicket in the first after tea as Jasprit Bumrah sent Pope back to the clubhouse for a three-ball duck after wicketkeeper Rishabh Pant managed to catch the ball which hit the edge of his bat.
Read also | What is BazBall? All about England's new approach to testing cricket under coach Brendon McCullum.
In the next, Lees was eliminated by the pair of Mohammed Shami and Ravindra Jadeja. England lost their third wicket with a score of 109 runs.
After that, the in-form duo of Joe Root and Jonny Bairstow resumed the hunt for their team. The duo formed a fifty-race partnership. Root-Bairstow continued to inflict penalties on Indian bowlers, suddenly shifting things more in England's favour.
A hundred-point stand was in place between Bairstow and Root in 141 balls. Indian bowlers could find no response at bat from these two as they continued to rack up the runs. Both raised their half-centuries and also completed their 150-run stand in 196 balls.
Root-Bairstow ensured his team came out of the final session without further damage, needing 119 runs to win and level the series.
Earlier before tea, England fly-half Alex Lees and Zak Crawley sealed a century-long partnership after captain Ben Stokes led from the front taking four wickets to eliminate India for 245 in the second innings then that the visitors set a target of 378 points for the hosts.
Resuming the session after lunch at 229/7, India lost Mohammed Shami in the fourth ball of the tea session as England captain Ben Stokes sent him off for 13. From there, there was no had more looking back for the skipper as he also fired first leg centurion Ravindra Jadeja who clipped the ball on his stumps for 23 as the hosts lost their ninth wicket for 236.
In their next game, Stokes fired India captain Jasprit Bumrah for seven to eliminate India for 245. The hosts set the visitors a target of 378 points.
Chasing a big total, England needed a strong start and their fly-half Alex Lees and Zak Crawley did just that at a brisk pace. The duo entered into a 50-carry partnership with southpaw Lees being the aggressor of the two. Southpaw Lees then scored his half-century in just 44 balls. Lees-Crawley's opening pair continued and they cut the target to under 300.
India captain Jasprit Bumrah tried all bowlers Shami, Mohammed Siraj, Shardul Thakur and left arm spinner Ravindra Jadeja but failed to break the opening partnership.
The duo took the team to triple figures to put the pressure back on India. Just when it looked like the game was heading away from India their skipper Bumrah hit Zak Crawley's clean up for 46. The hosts lost their first wicket for 107 and that score stood until the session of tea as they needed an extra 271 runs to win with nine wickets in hand. .
India retook the Day at 125/3, with Cheteshwar Pujara (50*) and Rishabh Pant (30*) in the crease. The pair then added a further 28 points to their fifty-point stand before Pujara was fired by Stuart Broad for 66 after being caught by Alex Lees at fullback.
This brought Shreyas Iyer to the crease.
Pant continued his good batting form, reaching his half century after hitting a stunning 146 in the opening innings. Iyer also hit Broad and Matty Potts for four, before being fired by Potts for 19 after being caught by James Anderson at mid-wicket as he attempted to shoot.
Ravindra Jadeja was next in the fold. Pant's stunt ended at 57, being fired by spinner Jack Leach after being caught by Joe Root slipping.
Shardul Thakur was next in line to join Jadeja but went cheap for just 4 as India lost their seventh wicket at 198.
The duo of Mohammed Shami and Jadeja led India through the rest of the session without any damage.
Going into lunch, Ravindra Jadeja (17*) and Mohammed Shami (13*) were unbeaten at the crease for India. India maintain a healthy lead of 361 points in the game.
Short scores: England: 284 and 259/3 (Joe Root 76*, Jonny Bairstow 72*, Jasprit Bumrah 2/53) need 119 points more v India: 416 and 245 (Cheteshwar Pujara 66, Rishabh Pant 57 , Ben Stokes 4/33). (ANI)
(This is an unedited and auto-generated story from syndicated newsfeed, LatestLY staff may not have edited or edited the body of the content)