The Braves finish June with a 21-6 record
---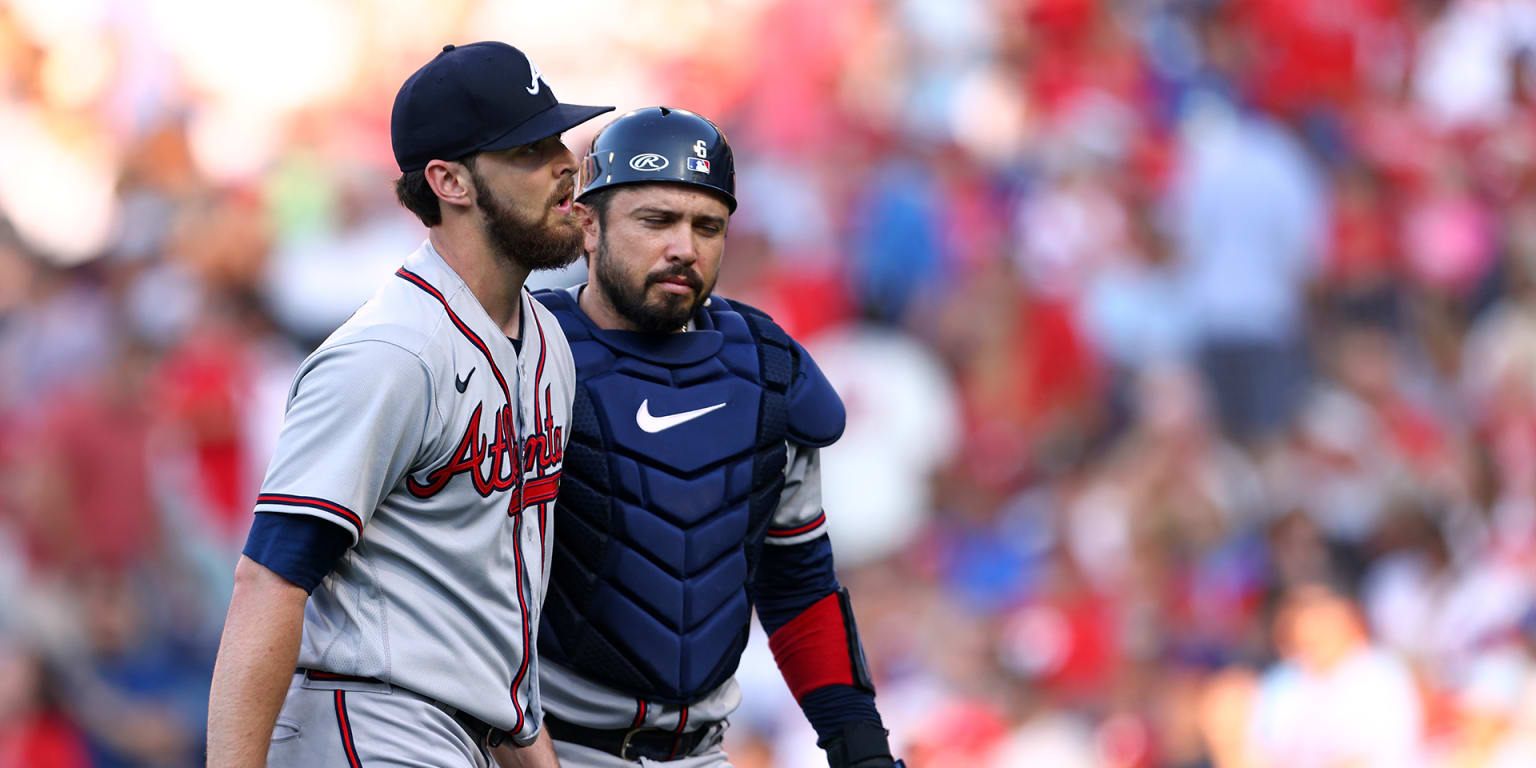 PHILADELPHIA — Suffering a 14-4 loss to the Phillies at Citizens Bank Park on Thursday night was certainly not a good way for the Braves to end one of the best months in franchise history. But if they find themselves in the playoffs, they will fondly remember how June changed the direction of their season.
After Ian Anderson allowed seven runs in just two innings in the series finale against the Phillies, the Braves finished June 21-6. They tied the team record for most wins in a month dating back to 1966 when they moved to Atlanta. But more importantly, they have spent the past four weeks looking like a club capable of defending their World Series crown.
At the end of May, the Braves were 23-27 and 10½ games behind the first-place National League East Mets. They are now 44-33 and only 3½ games back in a divisional race they have won each of the past four seasons. They would also fill the second of three NL Wild Card spots if the season ends today.
"Hopefully I look back three months from now and think, 'This was the month that propelled us to another division title,'" Braves manager Brian Snitker said. "These guys should be proud of what they've accomplished this month."
• The Braves have won the first 14 games of the month against the D-backs, Rockies, A's, Pirates and Nationals. Critics have questioned whether this success was simply the product of playing teams that had a losing record. Atlanta has calmed those doubters by going 6-4 in its last 10 games against the Giants, Dodgers and Phillies. The Dodgers' ninth-inning rally on Sunday prevented the Braves from winning each of those three series.
• Michael Harris II made his debut six days before Ronald Acuña Jr. started playing on the right field on a daily basis. As a result, Marcell Ozuna went from a defensive liability in left field to a designated hitter. With Harris in center field, Acuña in right field and Adam Duvall in left field, the Braves now have one of the best defensive fields in the game.
Along with providing a Gold Glove-caliber defense, Harris hit .347 with four homers and a .945 OPS in June. The 21-year-old center fielder made his debut on May 28 after playing just 197 games at the minor league level. But he showed nothing but poise as he was arguably the Braves' most valuable player in that big month.
• If Harris wasn't the Braves' most valuable player in June, the accolade would go to Dansby Swanson, who deserves mid-season consideration for the NL MVP Award. Swanson ranks among the best defensive shortstops in the game, and he entered Thursday ranked fourth among all NL players with a 3.4 fWAR. He hit .330 with seven home runs and a .953 OPS in June.
Travis d'Arnaud also continued to make a significant impact, as he hit .304 with seven home runs and a 1.041 OPS in 17 games over the past month. The veteran has positioned himself to possibly be the NL's starting catcher at the All-Star Game this year.
• Max Fried bolstered his Cy Young Award qualifications by posting a 2.16 ERA in his five starts in June. Kyle Wright also looked like a front-row starter, sweeping a second straight tough start on June 23 to limit the Phillies to one run on three hits and three walks in seven innings on Wednesday. Perhaps the most influential rotational development, however, has been Charlie Morton posting a 1.83 ERA in his last three starts.
Anderson has gone less than five innings in three of his last four starts, but all indications are that he is healthy. As the young pitcher tries to recover, the back of the Braves rotation should continue to be stabilized by Spencer Strider, who allowed two runs or less in four of his five starts in June.
• The Braves lost Ozzie Albies to a broken left foot on June 13, but saw Adam Duvall reappear to hit eight home runs and produce an .864 OPS in the month. Matt Olson's .780 OPS was his lowest monthly mark of the season. But as Atlanta's first baseman collected 14 more hits, including six home runs, he showed the instant impact he can have on what now looks like a very formidable lineup.